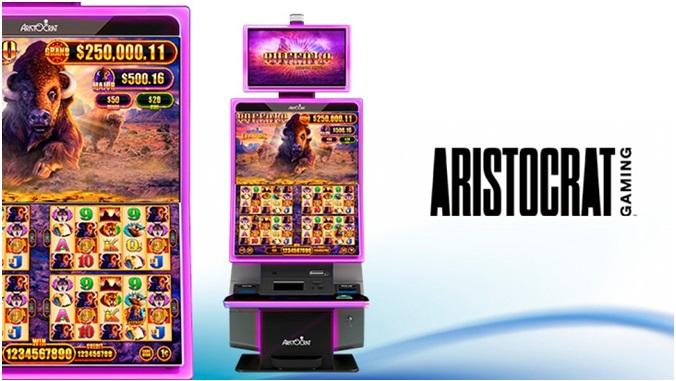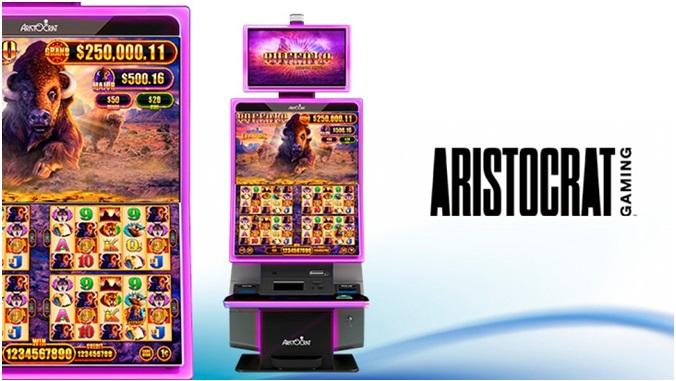 Aristocrat Legends is a slot machine where you can play Arisotcrat's legendary games like Buffalo Brand, Timber wolf and 50 Lions as well as play four reel sets at once.
This means Legendary Buffalo brand, Timber Wolf, and 50 Lions games are together in one cabinet and you'd get Aristocrat Legends, a new Class III game from Aristocrat Gaming.
Inspired by the player favourite Wonder 4, in Aristocrat Legends, players choose any one of the three games and play four-reel sets at once. Plus, these three legendary player-favourite games now have the added thrill of metamorphic jackpot engagement where each game has its own persistent collection of coins for added player engagement.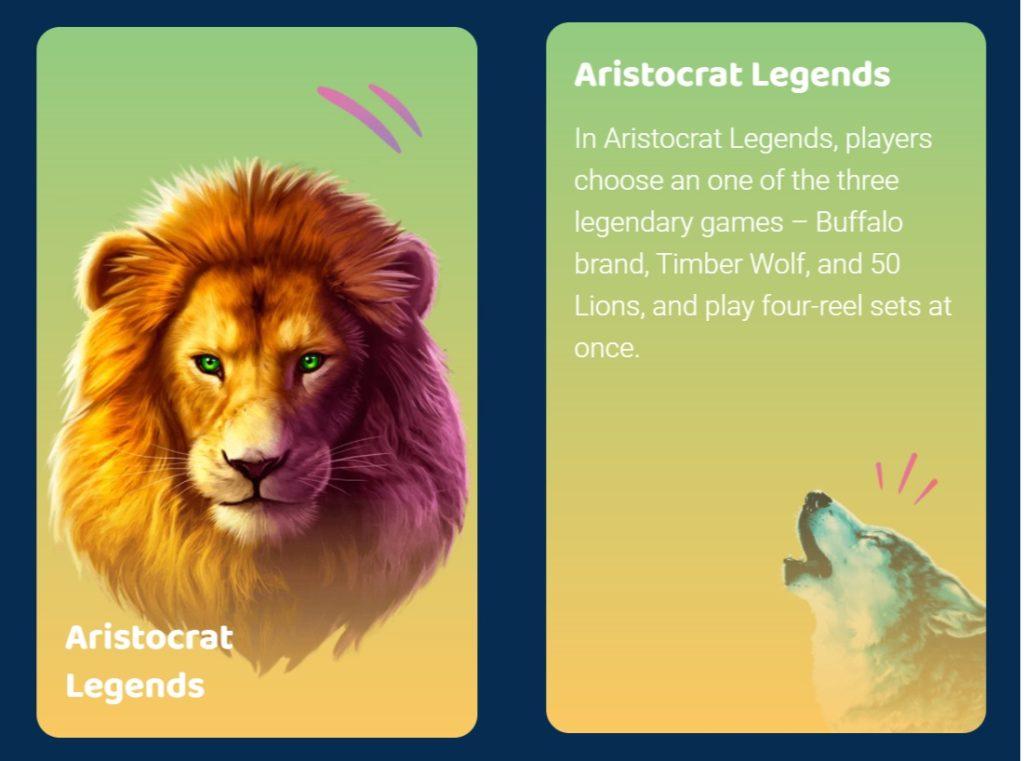 Jackpots add to the excitement with a Grand MSP jackpot that starts at $250,000. A Major SSP jackpot starts at $500, and there are also two potential linear jackpots.
Aristocrat Legends has three entertaining features. First, Jackpot Match 3 gives players the chance to win any progressive level. In Legends Wheel, not just one but two wheels spin to award players a bonus and Free Games on all four reel sets. Then in Free Games Booster, players will discover their favorite Free Games with even more multipliers and wilds.
A game this big can only appear on the large dual screens of Aristocrat's legendary Edge X™ cabinet with its dual wide screens and state-of-the-art graphics and sounds. Aristocrat Legends has medium volatility and frequent feature frequency. Denominations range from 1c-10c.
Let's look for what you find in each slot game on Aristocrat legend so that you can play them wisely.
1. Buffalo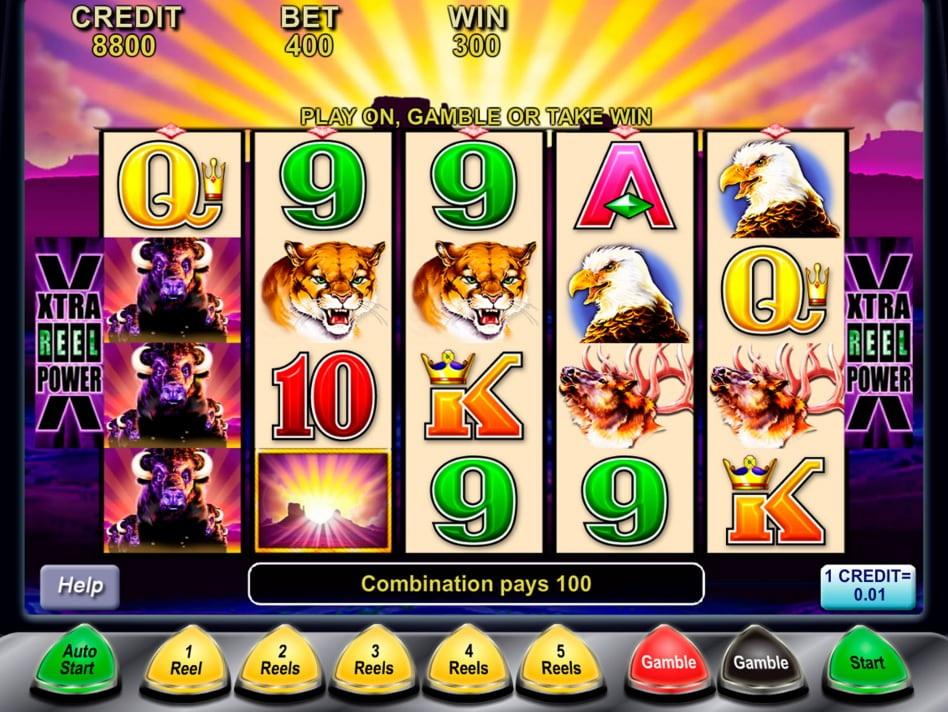 Buffalo slot is a bran Aristocrat machine. The original game became such a big hit that there are now multiple variations. While Buffalo Gold, Grand and Diamond have their fans – there is something about the original that has timeless appeal.
Buffalo slot are known for their sound effects as much as their graphics and prizes. With so many Native American animals on the reels, the screech of an eagle, stampede of buffalo hooves and howl of a wolf intertwine with a distinctive 'wild west' music tune.
This game uses an all-ways winning system, along with multiplier wilds. That gives you plenty of big win potential – especially when you hit the free spins bonus. During that bonus, just 2 gold coins will see your free spins extended. You'll now find the Buffalo slot on casino apps, as well as in live venues around the country.
While some of the newer Buffalo variations have non-square reel setups, the original Buffalo slots use a standard 5×4 setup. This game uses 'Xtra Reel Power' to determine wins. This is an 'all-ways' variation. To win, you need to match symbols on consecutive reels from the left. There are no win-lines – so you can't miss a win by getting the symbols in the wrong rows, as long as there are no full-reel gaps.
Buffalo symbols are distinctive. These are purple and show a buffalo charging towards you. They are the top paying symbols.
Here are all the symbols with bigger prizes on the Buffalo slots:
Buffalo
Eagle
Elk
Wolf
Cougar
There are brightly colored playing card symbols for the smaller wins.
Sunset Wild Symbols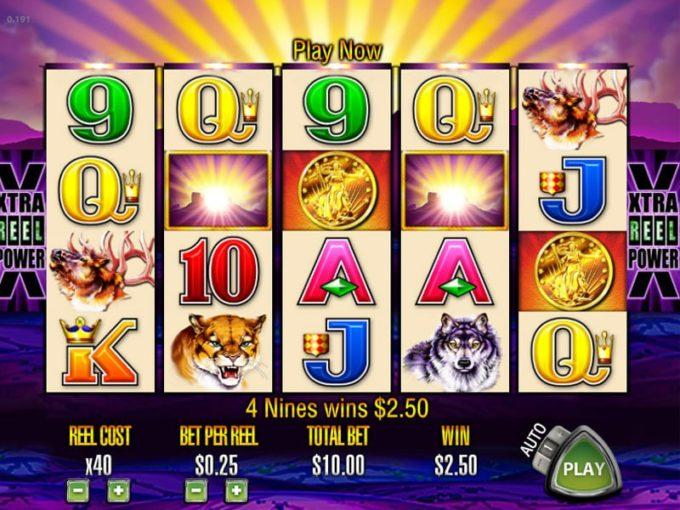 Wild symbols show a sunset over a barren rocky landscape. These symbols only appear on reels 2,3 and 4 – and will only appear once on each reel.
They are 'wild', replacing any other symbol to create extra wins. With the 'Xtra Reel Power' setup, these wilds are more valuable than average. They will frequently create multiple wins with different symbols from the same spin.
Multipliers in the game
During the base game, these are random. You'll hear the screech of an eagle, and the wild will show either 2x or 3x. Multipliers work together, for example 2 of the 3x wilds in the same winning combination gives you 9x (and 3 x 3 gives you 27x). As you will see below, wilds always get multipliers when the free spins bonus is in-play.
Free Spins Bonus
The only symbols not covered so far are gold coins. These can appear on any reel. They have prizes of up to 100x your triggering bet for 5 – though their main role is to trigger the free spins bonus game.
3 coins gets you 8 spins, with 15 for 4 and 20 for the maximum 5. During the free spins, you'll be treated to that distinctive 'Wild West' style tune. Wilds now always get multipliers, which can add significantly to your wins. If you get multiple buffalo symbols, along with multiplier wilds, then the coin show and characteristic Aristocrat slots circus music will often kick in.
During the free spins bonus, just 2 coins will extend your bonus games. This will get you 5 extra spins. 3+ coins will add 8, 15 or 20 spins respectively (with additional scatter wins). It is common to see a Buffalo free spins bonus game extended multiple times.
This classic slot does not have any added features like picks games or wheel spins.
2. Timber Wolf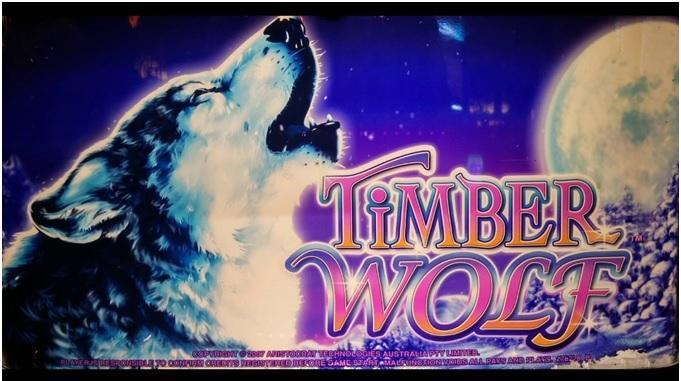 Timber Wolf slot is set in the frozen north. The best symbol is a wolf, which is pictured howling at the moon. You'll find a snow-covered hut, a moose, owls and a guy in a very furry hat on the reels.
The original game introduced multiplier wilds in the free spins bonus. They give you two shots at winning. There are now 4 versions of Timber Wolf. The major differences with the new games are covered below, after a run-through of the setup of the original.
Here are the Timber Wolf slot versions that you can find in the gaming machine
Timber Wolf Original
Timber Wolf Deluxe
Timber Wolf Grand
Timber Wolf Xtreme
With Timber Wolf Aristocrat introduced multiplier wilds which have respins in the free spins bonus games. Wolf symbol, which are the highest paying, is stacked on the reels. Moons, which are wild, will substitute for both the regular symbols and the bonus symbols.
Original Timber Wolf slots have a 5×4 setup with 50 win-lines. Some of the newer versions use non-standard reel configurations instead. Here are the higher paying symbols:
Wolves
Guy in the hat
Bears
Moose
Hut
Plain playing card symbols help break up the scene and supply those all-important smaller and more regular wins. The other symbols found on all the versions of this slot are owls. These are bonus symbols, with 3+ consecutively from the left needed to trigger the free spins.
Free Spins with Multiplier Wilds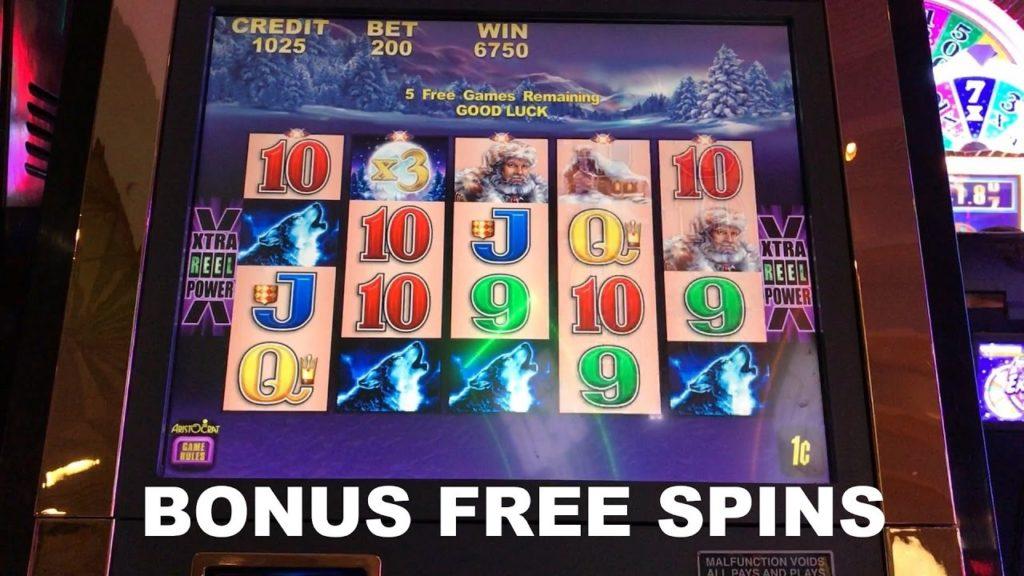 You get 12 free spins with 3 owls from the left, as well as a scatter prize. The game looks the same when these spins kick in, though new multiplier wilds make a big difference. There are two. On reel 2 you get a 3x wild, and on reel 4, a 5x wild. If you create a win with both at the same time, your wins are 15x compared to the pay table. This is an ideal time to line up the highest paying (stacked) wolf symbols.
If you get a wild and don't create a win, a respin feature starts. The reel with the multiplier is held, and you get a free respin for the other reels. This is more likely with reel 4 than reel 2 (which creates wins more often as it is on the left). It is possible to get the second wild during this respin.
a. Timber Wolf Deluxe
The 'Deluxe' version of Timber Wolf was the first to add jackpots into the mix. There is also a choice of how many free spins and what multipliers you get with them.
Jackpots are awarded via a 6th reel. This has a pointer in the middle. The mini, major, minor and grand wiz by. If one is about to drop this reel gets covered in flames and speeds up. You can win one of the progressives on any spin.
b. Timber Wolf Grand
Not only does the Grand version of Timber Wolf include progressive jackpots, it has a bonus wheel. The reels are in a non-standard 4-5-5-5-4 format – giving you extra ways to win.
If you trigger the bonus, you spin a wheel which has a mix of jackpots and free spins (with different numbers). Some of the jackpot segments also have the words 'bonus wheel' on them. If you hit these then you spin a second wheel, which gives you a chance to multiply your progressive win by up to 10x. This can apply to the biggest (Grand) jackpot.
c. Timber Wolf Xtreme
The newest version of Timber Wolf returns to the standard reel configuration. In the bonus feature, you collect gold wolf symbols to expand the reels. The number needed is shown on each new row, which covers reels 2, 3 and 4. With all-ways wins in use, your winning chances go up significantly for each new row you unlock.
Jackpots are also available on the Xtreme version.
You don't need to come from Alaska to appreciate the iconic frozen scenery that Aristocrat have used for Timber Wolf. The newer versions have some stunning special effect. Look out for the owl that swoops in at the start of the bonus feature.
The newer Grand and Xtreme versions have tall screens which make full use of the snow crystals and wildlife images. There are plenty of on-theme sound effects, with the howling wolves the most memorable.
Multiplier wilds in the bonus features are the key feature which all of the different Timber Wolf slot share. While the original was entertaining, the new versions have expanded on this in positive ways. All the new versions have progressive jackpots. Extras like the 6th reel, bonus wheel and expanding reels give each one a fresh take on the original.
3. 50 Lions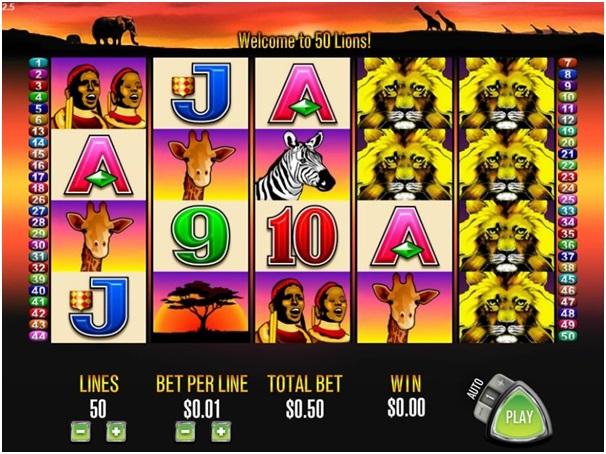 50 Lions slot was launched in 2003 and is an Aristocrat powered slot that has a multi-dimensional winning method on its 5 reels and 50 paylines. Gamers need no downloading of software and require no sign up to access the instant play mode. However, a real money pokie of 50 Lions needs registration to win its 1,000 non-progressive jackpot. Play Aristocrat's 50 Lions slot game for free, no download required, at 94.71% RTP plus up to 10 bonus spins offered for landing 3 or more scatter symbols.
Bonuses are always an enticing part of games and they vary in types. Free Spins Bonuses are the most common type and 50 Lions free slot has two of them:
In-game free spins bonus: It is offered by the game itself and it depends on landing of wild or scatter symbols on the reels.
Casino free spins bonus: It is mostly a welcome bonus to new sign-ups. It serves a purpose of welcoming new players. However, a number of spins depends on the casino one chooses to play at.
Here are some more important aspects of the game to keep in mind for beginners:
In-game Jackpot: Highest payout – 1000 coins.
Paytables & Payouts: Paytables in this game have the highest and lowest paying symbols. For instance, the highest value symbol is Lion followed by Giraffe and Zebra. The least paying one is the Protea Flower.
Game Symbols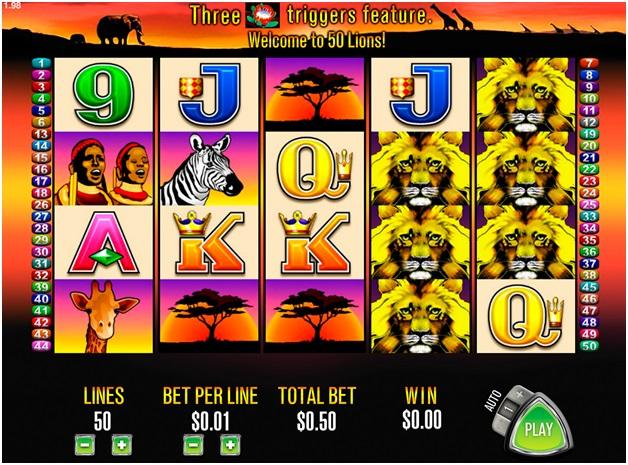 This 5 reel and 50 payline game consists of the following symbols with values attached to each of them: a lion, a wildflower, a zebra, tribal women, high card values (A, K, J, Q and 10), African Serengeti landscape, just to name a few. Symbols are characters that make up winning combinations and they are divided into regular and bonus ones. Regular symbols are associated with average payouts while Bonus symbols offer additional rounds. These extra symbols are mainly wilds and scatters.
$0.01-200 Maximum Bet
There are betting ranges in 50 Lions free slot machine – minimum and maximum bets are $0.01 and $200 respectively. Although the coin bet range is $0.01 and $4 for both minimum and maximum. Once a wager has been made, then players get the chance to play and make use of symbols, i.e., wilds and scatters. What makes this game different from many other ones out there is that it was the first to have a 50 line structure. Also, with a LION symbol, it is possible to win on multiple lines at the same time. That being said, 50 paylines perceive good potential. In order for players to win big in 50 Lions pokie, they need to understand how this game works on the demo version. Once this has been understood, then placing a good bet would work. However, it is important to unlock as many bonus features as possible to stand a higher chance.
What you win?
Here are symbols and their payouts in 50 Lions slot:
Lion: Appearance on 2, 3, 4 and 5 reels comes with pay of 10, 40, 200 and 1000 coins.
Protea Flower: Appearance on 3 reel comes with a payout of 4 coins.
Giraffe & Zebra: Lands on 2, 3, 4 and 5 reels gives payout of 4, 40, 150 and 500 coins.
Two Tribe Women & Tree: When they appear on 3, 4 and 5, payout of 20, 100 and 400 coins.
A & K: Card value of 20, 50 and 400 coins when they land on 3, 4 and 5 reels.
J & Q: Card value of 10, 30 and 200 coins when they land on 3, 4 and 5 reels.
9 & 10: Card value of 10, 20 and 200 coins when they appear on 3, 4 and 5 reels.
There are two major bonus symbols in 50 Lions free slot machine, no download required:
Diamond Wild: Appears on 2, 3, 4, 5 reels and can substitute all other symbols except scatters.
Flower Scatter: Landing on the first three reels unlocks extra spins feature.
The free spins feature
10 Free Spins. Scatter symbol unlocks additional spins feature. When they land on the first three reels, 10 more spins are unlocked. There can only be one retriggering with 5 extra spins awarded at maximum. For each spin, an extra wild diamond is added to 2nd and 5th reels. This wild diamond stays there until the end, and guarantees a good win.
There is a great possibility to win when playing 50 Lions online free pokie. This is not only because of its RTP 94.7%, but also due to slot's 50 payline structure with additional wild diamonds. This boosts the probability of acquiring significant cash prizes at the end of every game. With a higher bet amount, the chances of winning increase.