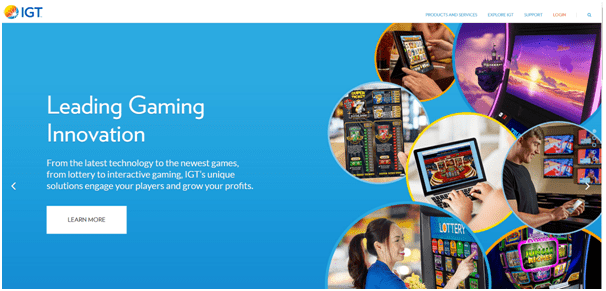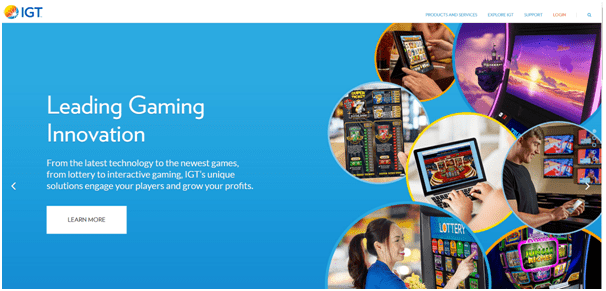 IGT is one of the leading brand gaming software also known as International Gaming Technology, that manufactures  biggest slot games in the world. IGT offers over 100 slot titles at many popular online casinos with wide range of game types to target specific player segments offering  life-changing jackpots, totaling nearly $6 billion in payouts.
You must be familiar with IGT slots at casinos that offer 'Reel Touch' line of slots containing the most-loved features of online machine gaming such as stacked wilds, multi-way winners, and lots of chances for free spins.
IGT is an American company with headquarter in Las Vegas. IGT lists their return to player percentages on their website, each game's RTP is between 90% and 98% which you can guage the true sense when you play on these machines. It was founded by William. S. Redd in 1975 and is headquartered in Las Vegas, Nevada. Although it started off as a small private company in the 1950s, the company's actual growth phase began in 1981, when it went public. With its IPO on the NASDAQ, IGT announced to the world its intentions to offer services and products at a global scale.
IGT Slot Machines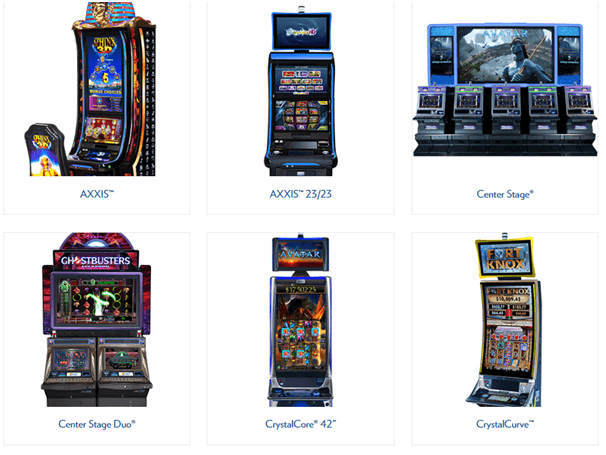 The slot machine cabinets designed and manufactured by IGT are among the best in the market today and has come a long way from its first slots cabinets to the latest models, which are a lot more sleeker, faster and brighter. When you are at an IGT machine, you can expect to have a thrilling gaming experience. The cabinets are user-friendly, flexible and offer great value to casinos investing in them. Some of the gaming cabinet series developed by IGT you can find are G20 Version 2, G23V2 Premium Widescreen, G20 Bar Top, S MLD Upright, S AVP Upright, Universal Slant and E20 Upright for Lottery to name a few.
Thus IGT offers a variety of slot games under the Spinning reel, the video reel, and multi-game categories. It also offers several multi-level progressives, wide area progressives and stand alone slot machines to casinos.
In the online world IGT is the largest supplier and has developed some of the best known slots including those based on major brands and franchises, such as Monopoly and Star Trek. IGT has also been associated with big names in Hollywood, with its movie-themed slots like Breakfast at Tiffany's, the Hangover, Grease, The Dark Knight, Ghostbusters, Sex and the City, Indiana Jones and Godzilla. The company has also released several slots based on televisions series like the X-Factor, American Idol, Jeopardy!, CSI, Family Guy and Judge Judy. The list just goes on and on.
Also it has table games, poker, smartphone games and social gaming too. In 2010, IGT bagged the Best Slot manufacturer Award and celebrated the making of its two-millionth gaming machine. The company entered the social gaming market in 2012, when it acquired Double Down casino, one of Facebook's companies, with its headquarters in Seattle.
Where you can buy IGT Slot Machines?
IGT slot machines can be bought directly from IGT website if you want to have a new one. As they are built to deliver thrilling player experiences and easy serviceability, they are powered by premium platform technology, creating server-based gaming-ready cabinets that are able to deliver content to players in record time and with astounding quality.  Each of their hardware solutions is backed by IGT's incomparable quality, service and reliability.
For old and used IGT slot machines you can search them at online stores like ebay, amazon or realslotmachinesforsale. These sites offer IGT slot machines that are old and have been working for some time. You can have them for your entertainment purpose or for your small business like a pub or club or for family fun that is your choice.
Why you need IGT Slot Machine Parts?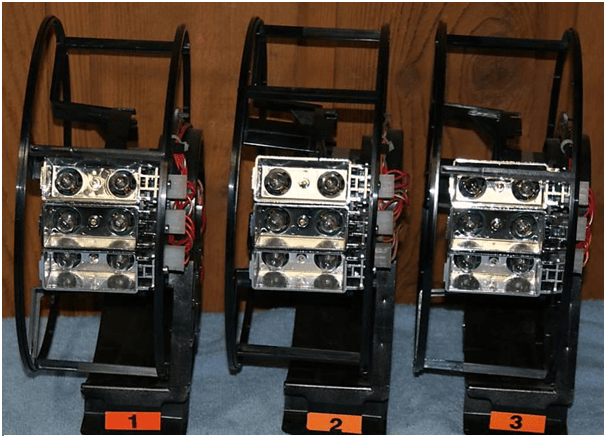 Because these IGT slot machines are used one on sale they might have been worn out due to constant use like pulling on the lever or pressing buttons and need repair and maintenance. So, you need to find IGT  slot machine parts. But before you buy one you need to have perfect understanding of how these parts or slot machine work so that the repair is more easy for you.
IGT Slot Machine Parts
Earlier there were only mechanical slot machines but with changing technology now you have computerized slot machines too. The mechanical slot machine uses a system of gears and levers but electric slot machines use motors and solenoids to run the gears. Today's computerized slot machines, on the other hand, use a random number generator to decide the outcome.
Because slot machine designs have changed through the years, it is important that you have the owner's manual for your specific machine when you repair it. Here find below some of the slot machine parts that are commonly used in most machines:
Reel Spinning: These reels are spinning disks that have printed symbols on them. These indicate if the player has won based on matching combinations. Also number of reels varies based on the machine design.
PayTable: Paytable features all the potential payout details that may be received from the slot machine. You need this part if you are restoring vintage or antique slot machines though this component is not required for slot machine to work.
Slot Machine Glass: This glass covers and protects the reel along with other machine parts and showcases the slot machine reel, design, and art.
Loyalty Card Slot: This part is used in slots where casino loyalty cards are inserted and are often located next to the reel. This allows players to earn bonuses by merely playing.
Cash Tray: It is simple tray where coins are dispensed and is found below the reels.
Lever Handle: This part activates the gears inside the machine so reels start spinning. Nowadays it is replaced with a button or touchscreen in more modern slot machines but still found in computerized slot machines in the form of virtual levers to mimic the experience.
Strong Box: This part in slot machine is a type of secure location for tokens and coins inside the slot machine.
Coin Chute: It is a Tube from where the coins or tokens roll down from the strongbox to the cash tray
Therefore reels, coin chutes, cash trays, and lever handles are just some of the basic parts of a slot machine. Inside, you find other moving parts like notched discs, stoppers, kickers, reels, and more, depending on the specific brand and model. This is why if you are looking to restore, repair, or refurbish your Mills, Bally, or Japanese slot machine, it is crucial that you also have an owner's manual so you understand its exact configuration and parts.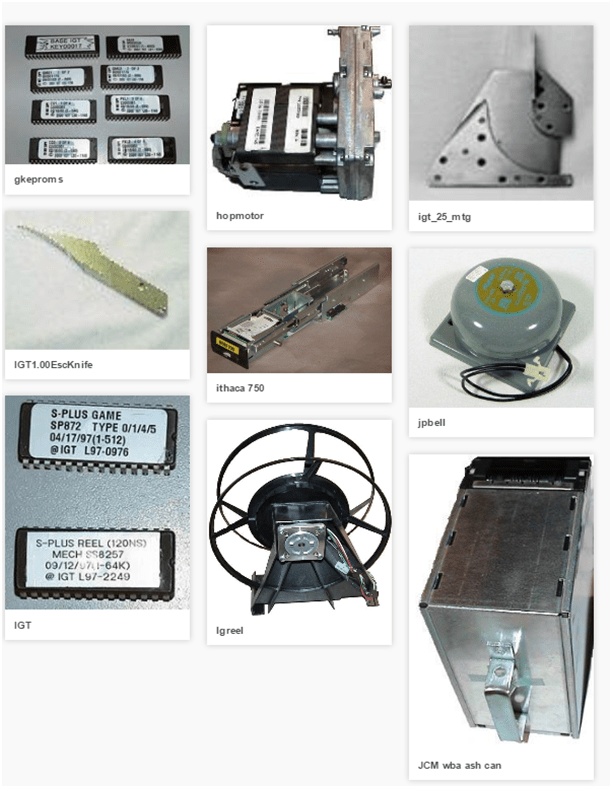 IGT Slot Machine Parts from IGT store
IGT offer depot services where you can buy machine parts. Whether your parts strategy calls for large inventories or just-in-time repair, IGT has your needs covered. Some people believe in using authentic IGT certified materials and repaired parts that are guaranteed to be of the highest quality. These IGT slot machine parts come with 180-day warranty.
Also they have a parts repair section to keep your parts inventory running like new. From monitors to bill validators, and sound systems, they will repair and return your damaged hard to find IGT machine and system hardware parts. They have their full fledged repair technicians that are highly trained to repair the parts you need making it possible for you to keep your operation humming at the highest capacity. You can contact them here to know more in detail. You need to be a IGT member to avail its services that means you need to register yourself at their site to have these service available to you.
Buying IGT Slot Machine Parts at Online Stores
If you are thinking of buying a reel or a coin chute, you are sure to find new and pre-owned slot machine replacement parts at online stores. When you visit such sites just type on the search box the spare part you are looking for your slot machine and your web page will be loaded with IGT spare parts images, specifications, description and price. You must go for the best deals in buying the slot machine parts after knowing their working condition.
By having the slot machine parts you can also save money by repairing and refurbishing the slot machine you already have instead of buying a new and you will find your slot machine looking and working like new again.
Also make sure before buying that it is legal in your state to have slot machine or its parts or you need a proper license for it. While at few places there is no harm in having for your personal use but at few states there are restriction that do not allow private ownership. Buying at online stores is much easier too as you have different sellers to explore and you can bargain on the best deals.