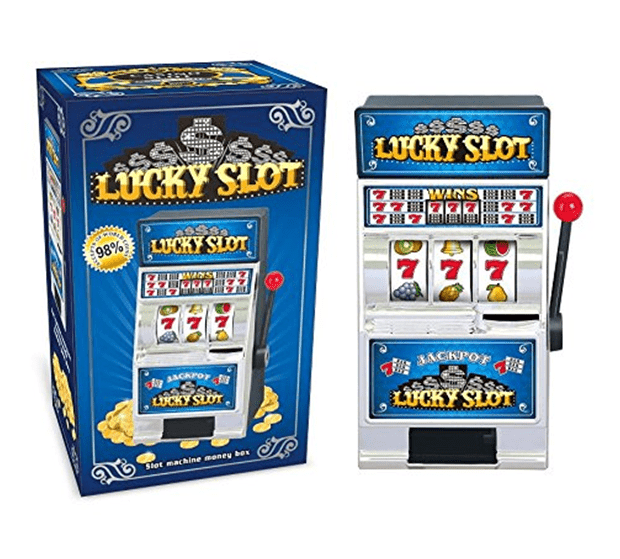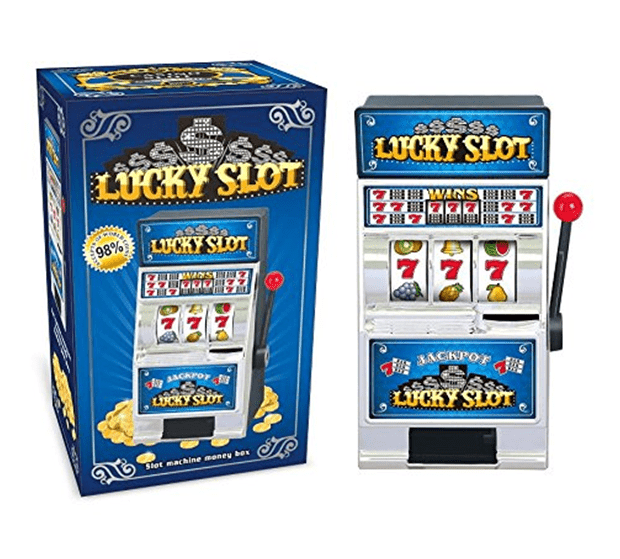 Mini slot machines are miniature versions of slot games found at the casinos. Slots have many variations based on wager denominations and quantities, pay tables, pay lines, and sometimes bonuses and sub-games. If you play on slot machine you need to first put money into the machine by clicking on the chips or if fast play is activated, you just need to click either Bet One or Bet Max. Then put coins in the machine by either clicking on the coin slot or clicking on the bet button. Then simply press the spin reel or spin button in Mini slots. You may also choose to press the Bet Max which automatically wagers the maximum number of coins and also automatically spins the reels. You either win or lose, depending upon what displays on the reels when they stop spinning versus the pay-lines you have wagered.
The payouts vary according to the amount wagered, and you may either find the pay table  by clicking the pay table button, or it will be posted directly on the machine. Remember, in order to get the maximum payout, you must wager 3 coins for 3-reel machines, because they have 3 pay lines,  and 45 coins for most 5-reel machines, because they have 9 pay lines, and few slots with the exception of Win Million which has 5 paylines for a total of 25 coins.
Examples of the Mini-Slots games
Here are few latest Mini-Slots games that can be accessed at any land casinos or even at online casinos by clicking on Mini Game located at the top of each game. You will be able to play one or more mini games simultaneously with the standard game. Few of the slot games are:
Diamond Mine
Diamond Mine Deluxe
Lucky Lightning
Sevens and Stripes
Triple 7 Inferno
Earliest slot machines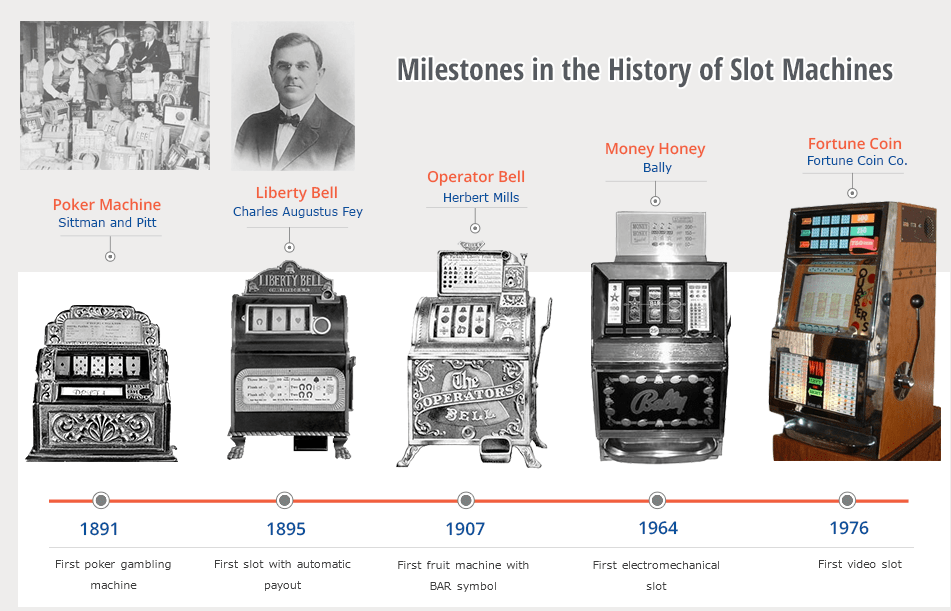 The earliest slot machines were the first three-reel slot machine and had a maximum jackpot of half an American dollar.  Also many early slot machines did not pay off in cash. With the coming of computerized slots with random number generators it enabled more volatility and bigger payoffs.
The first slots were mechanical, clockwork machines. There were coin-operated gaming devices before San Francisco mechanic Charles Fey invented the Liberty Bell in 1895, but it's with the Liberty Bell that the line that leads to modern slots begins. Fey devised a game with three spinning reels, a handle on the side, and a slot in which to drop coin.
The game features were:
Five different symbols were used on the reels – horseshoes, diamonds, spades, hearts and a Liberty Bell.
There was a single payline across the middle of the display.
The top payoff came for lining up three Liberty Bells.
The top jackpot was tiny by today's standards – 10 nickels, or U.S. five-cent pieces, meaning a total jackpot of half a dollar.
The design was simple, elegant, and long-lasting. You can still find three-reel games in today's casinos, though they're driven electronically rather than by handle-initiated cogs and gears. If you placed the Liberty Bell in today's casinos, it would immediately be recognizable as a slot machine.
Earlier wagering slot machines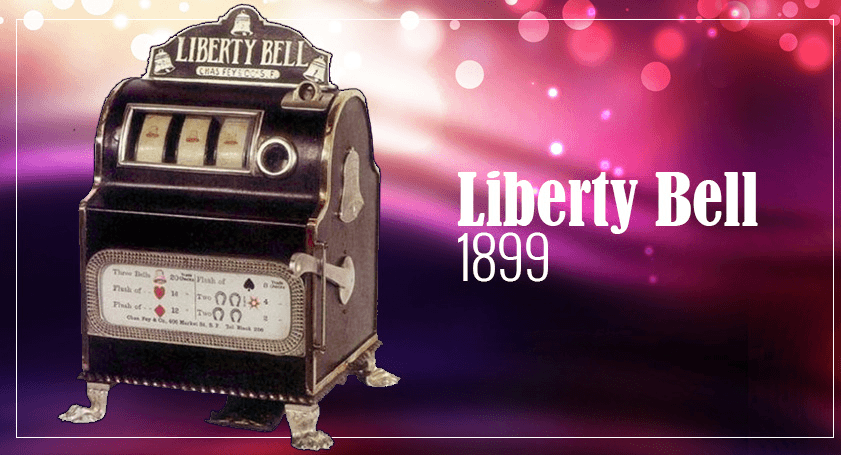 While the Liberty Bell was the first reel-spinning game, there were earlier wagering machines with coin slots. Sittman and Pitt of Brooklyn, New York, produced a poker-based machine in 1891. It had five drums, each with 10 card faces. Each play would display a five-card poker hand. Also popular were color wheel games. These had vertical wheels divided into segments of different colors. Players would wager on which color would line up with a top indicator. These machines would quickly fade from the scene, while Fey's invention spurred other game makers to design three-reel games.
Herbert Mills slot machines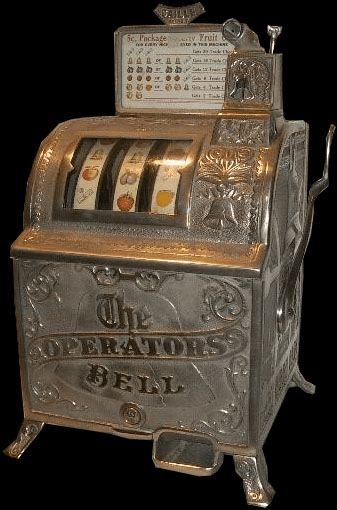 A Chicago manufacturer, Herbert Mills, introduced a three-reel slot machine called the Operator Bell in 1907. Mills was a leader in coin-operated devices, which included:
A movie-viewing machine called the Auto-steroscope.
An ice cream making vending machine.
Machines for dispensing Coca-Cola, both in bottles and cups.
Mills machines were the most widespread early slots, and it was Mills who first put fruit symbols on the games. The fruit symbols have been so durable that in some nations, including the United Kingdom, slot games are referred to as "fruit machines."
Trade Stimulators slots machines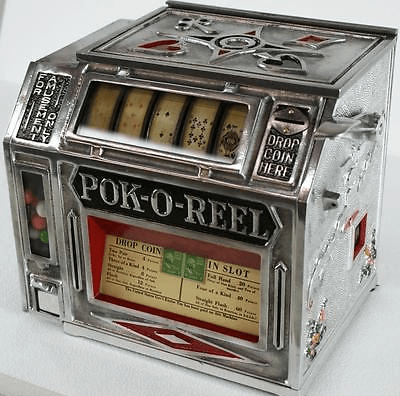 Until the State of Nevada legalized casino gambling in 1931, slot machines that paid money were illegal in the United States. That didn't mean such machines didn't exist. But monetary payoffs couldn't always be in plain sight. Instead of being casino games, some machines were used as trade stimulators, placed on merchants' counters to attract customers and help build business.
Trade stimulator slots paid off in merchandise, rather than in money. Among the prizes were golf balls and cigars. Some popular games paid in sticks of chewing gum, notably Bell Fruit Gum. The trademark logo of the gum company was a black rectangular bar, and that inspired the "bar" symbols you still see on modern slots.
Gum flavors also inspired fruit symbols including cherries and watermelons, also still commonly in use. At some locations, players knew they could win something more, with merchandise prizes secretly exchanged for cash winnings. But at least in the open, the games were designed to pay in legal prizes.
Bally slot machines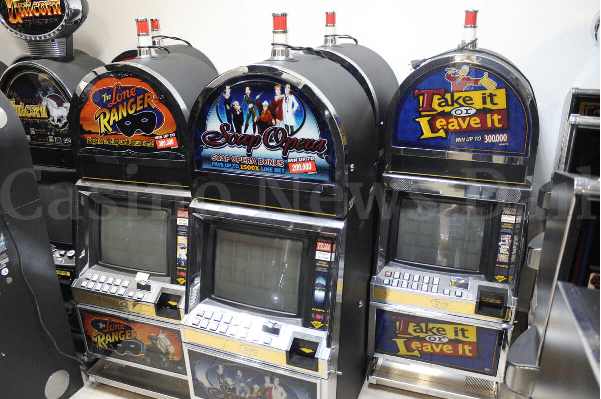 Another Chicago company was founded in 1932 as Lion Manufacturing. One of its early successes was a pinball game known as the BallyHoo, and the company name was changed to Bally Manufacturing. In later years, it changed to Bally Technologies, moved its offices to Las Vegas, and today is part of Scientific Games. Several years after the legalization of gambling in Nevada, Bally positioned itself to challenge Mills for the slot machine leadership. Its first real slot was of the trade stimulator variety. The Bally Baby was a tiny countertop model that dispensed award cards to be exchanged for chewing gum.
Bally was an innovator, the leader in casino slots for decades. Among Bally's innovations were:
The Bally Bell, which was the first slot machine to accept more than one coin denominations, with one slot for U.S. five-cent pieces (nickels) and one for 25-cent pieces (quarters).
The popular Hi Boy upright slot in the early 1940s, which established Bally as a major provider of slot games. By the 1960s, more than 80 percent of casino slot games were made by Bally.
Electromechanical slots, introduced in the 1960s, in which electronic components were added to mechanical workings.
The coin hopper, introduced along with electro mechanical slots on the Money Honey machine. The coin hopper circulated in a pool for payoffs. That enabled bigger payoffs to be made by the machines without having to stop play to have an attendant pay by hand, and those bigger machine pays were a big step in increasing slots' popularity.
IGT's slot machines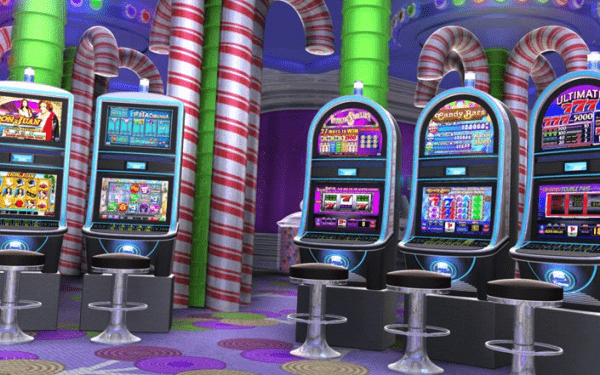 Computerized slots with virtual reels and random number generators is what IGT slots are famous for. Those made it possible to design games with much more variation in odds, enabling huge, lifestyle-changing jackpots.
Among the wide-area progressive games IGT's Megabucks game was the first to link machines at different casinos to offer multimillion-dollar prizes. Soon came the popularization of the bonus wheel. A smaller company, Anchor Gaming, devised an add-on to slot machines called Wheel of Gold. IGT knew a good thing when it saw it. It licensed Wheel of Gold, worked out a licensing arrangement with the television game show "Wheel of Fortune," and the rest is history. Wheel of Fortune slots have been among the most popular games since the mid-1990s.
 Aristocrat slot machines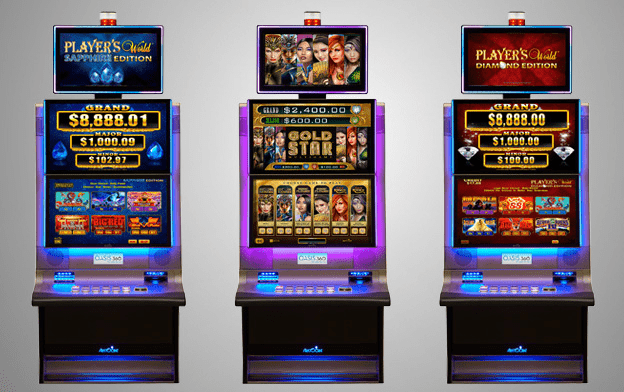 Aristocrat Technologies has had enormous influence, leading the way in the development of games with five-reels (both mechanical and on video), multiple paylines and bonus events in the early 1990s. When then-Chicago-based WMS Gaming, now part of Scientific Games, led the breakthrough of multi-line video bonusing slots in the U.S. in the mid-to-late 1990s, experts acknowledged they were confident the games would resonate with players because Aristocrat's games had done so well on the Pacific Rim. Among other worldwide game makers who have made a big impact in the last couple of decades are Austrian-based Novomatic, Japan's Konami Gaming and Aruze Gaming, with branches in the U.S., Australia, South Africa and Macau.
Video slots machines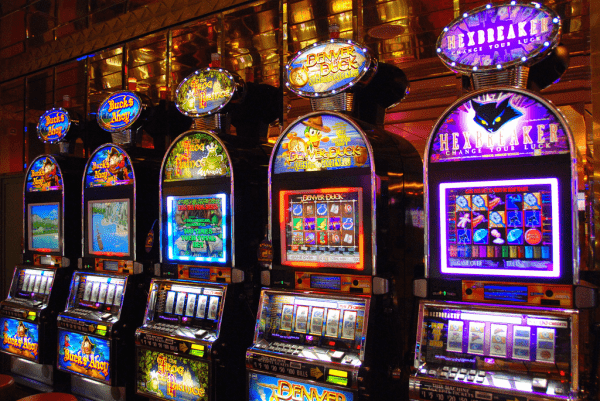 The large majority of slot machines in use today are on video screens instead of using mechanical reels. Early video slots, available in the 1980s, tried to mimic the three-reel experience, and they weren't at all successful. To attract players, video slots needed to offer a different play experience. In the U.S., the first time slot games with video representations of spinning reels game when Bally introduced the Game Maker in 1994. It included slot, video poker and video blackjack games on the same unit.
The slot games even developed a following, rare for the time. Poker and blackjack had carved out followings on a video format, but the Game Maker was the first machine where video slot games achieved a degree of popularity. Bonusing slots from Aristocrat and then WMS followed, and the popularity of video took off. Today, video slots dominate international markets.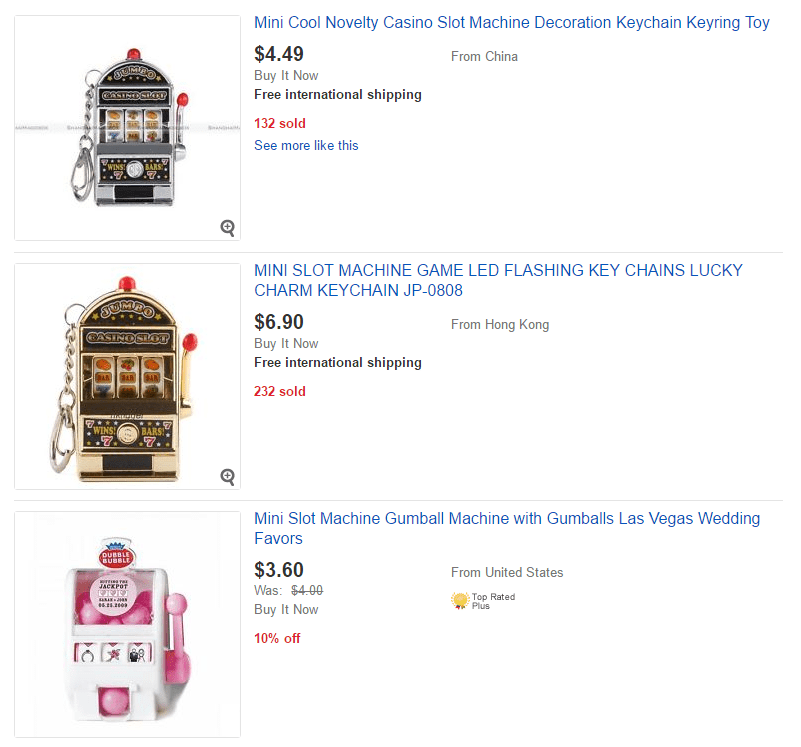 Thus Mini slots are only the toy form of these slot games. You can buy Mini slots machines from online stores like realslotmachinesforsale or eBay or Amazon.