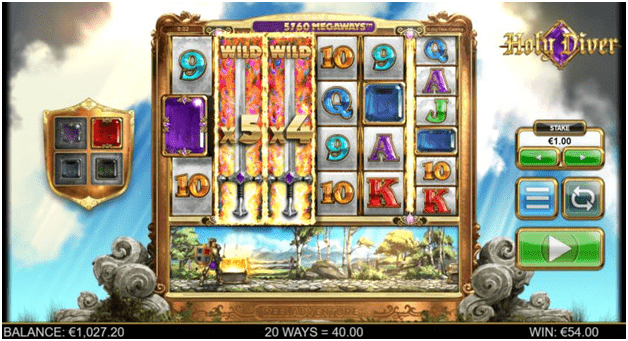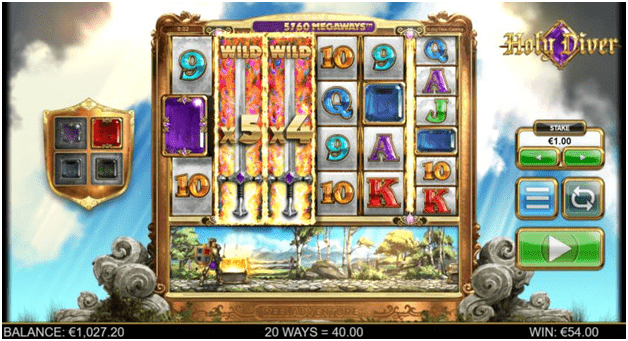 You must have heard about Megaways slot machines. Such slot machines came into existence in 2016. Developed by Big Time Gaming, Megaways offers an entirely unique way of playing slots. At the core of the famed game engine are the shape-shifting reels that allow for the reels to produce a random number of symbols on each spin (usually between 2 and 7). Consequently, every spin brings with it a random number of win ways (usually up to 117,649) which also has an effect on the winning potential. Expanded to its maximum configuration, these games often have the potential to produce massive wins of up to 50,000 times your stake. Add multipliers, and other reel modifiers to the equation, and you can surely imagine just why its grown to become such a popular phenomenon.
Megaways slot machine features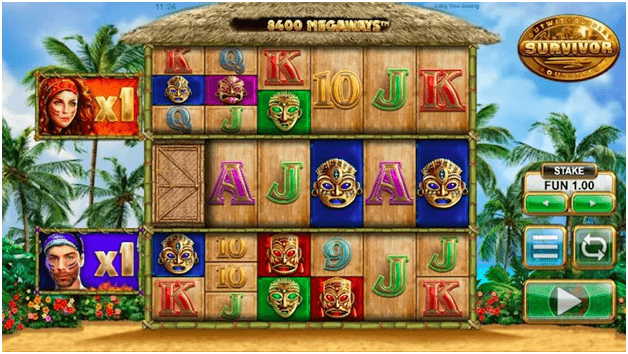 Another area where Megaways proves its worth is in the large range of features it can incorporate. As well as the standard ones you find everywhere such as wilds, scatters, and free spins, here are a few others you are likely to come across when taking on a Megaways title.
In Megaways slot machine every spin produces a different number of symbols on each reel. Generally, this amounts to 2-7 symbols, over 5 or 6 reels, generating a huge number of win ways. In essence, Megaways is so simple you wonder why no one had thought of it before – and therein lays its genius.
No doubt a lot of other developers wished they had because the engine's popularity has exploded, powering a ton of different slots. Thanks to licensing agreements, many developers have used Big Time Gaming's engine to power their own games, including modernising older slots via Megaways remakes.
1. Cascades
This feature may appear under different names such as Reactions, Avalanches, Cascades, and is the peanut butter to the jelly when it comes to Megaways. How it works is that when a winning combination lands, the symbols involved explode off the grid to let new ones cascade down into the gaps. This can lead to consecutive chains of wins from a single spin and is a match made in slots heaven when it comes to Megaways.
2. Progressive win multiplier
One feature that builds on the cascading mechanic is a progressive win multiplier. Here an initial win comes with a multiplier of x1, which increases by +1 for each subsequent cascade. This means the more consecutive cascades, the higher the multiplier will climb. When active during a base game, the multipliers resets to x1 on a new spin. However, during free spins, the multiplier often does not reset but can only ever go up leading to significant values.
3. Mystery symbols
This is another feature common to Megaways slots. Whenever mystery symbols land, they all change to reveal the same common symbol. Usually, they appear scattered around the grid, but you may find them stacked in some titles.
4. Wild Multipliers
While not exclusive to Megaways, wild multipliers are another feature that absolutely shines in conjunction with what the engine can do. Inspired Gaming's Desperados Wild Megaways is a great example of this, as not only do wild multipliers star in the game, they can also become sticky, and two or more have their multipliers multiplied together for potentially better results.
5. Bonus buy
Another Big Time Gaming innovation is the bonus buy option. This gives players the chance to buy their way to the bonus game for a multiple of the total stake. Twists on bonus buys include collecting some sort of token to reduce the cost of buying the feature, or opening up an enhanced bonus game such as with Royal Mint Megaways.
How does Megaways work?
Megaways has proven to be extremely versatile, propping up all manner of themes in a variety of configurations. However, the standard format usually involves 6 reels, sometimes with a special 4 symbol bonus reel running horizontally above the game grid.
Having different numbers of symbols on each spin, means the number of maximum win ways shifts dramatically. Win ways usually top out at 117,649, though they can be as high as Holy Diver's 576,981. Other developers have taken the engine in the opposite direction by reducing win ways to a more manageable, but still huge, 15,625 as seen in Fishin' Frenzy Megaways by Blueprint Gaming. Or, even lower, at 512 used to power Games Inc's fruit-filled slot Joker Megaways.
How do you win with Megaways?
The general rule of thumb is to land three matching symbols, consecutively, from the first reel onwards. Since there are no paylines, symbols can land on any row and still form a winner. With all of that space to use, it is possible to win from more than one type of symbol on a single spin as well. It is similar to the classic 243 win ways scenario, but with a whole lot more going on.
All Action Megaways Slots
Developer Blueprint Gaming is the creative team behind this clever innovation. These are big bet slots allowing players to make larger than average wagers in return for skipping the base game altogether. Essentially, players buy a set number of free spins – or try their luck with a random amount. Popular with high rollers or anyone looking to avoid grinding through a base game to try and score it big in free spins. The first in this category is Blueprint Gaming's Buffalo Rising Megaways: All Action that offers high RTP along with high rewards.
Of course, the best slots are the ones that match you and betting requirements. With Megaways powering games of so much variety, there is bound to be plenty to fit your style.
Some of the popular Megaways slot machines
Dragon Born Megaways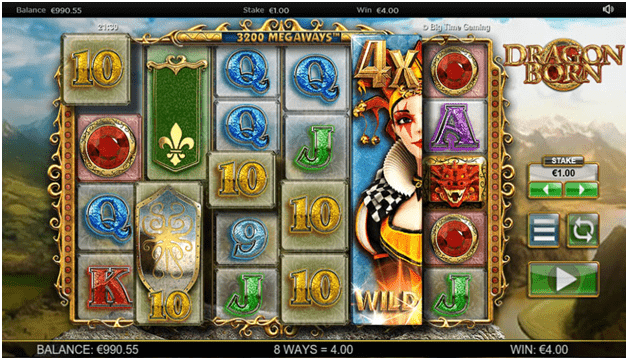 Big Time Gaming's iconic Dragon Born slot is where the legendary Megaways engine made its first appearance. The first Megaways slot ever released. It is a medium to high variance action with up to 117,649 ways to win.
Dragon Born utilises a Megaways layout that consists of 6 reels which generate a random number of symbols between 2 and 7 symbols high on each spin to give you up to 117,649 ways to win when fully expanded, making it bigger than what is considered the norm for video slots. Naturally, this is not a part of the game that you have the possibility of customising, but you are still able to adjust your overall wager. Simply utilise the left and right buttons in the bottom-left corner to set your bets between 0.20 and €/£40 per spin.
Bonanza Slot Machine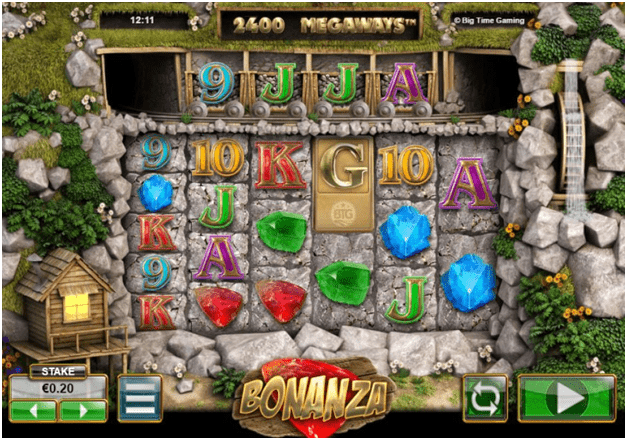 Bonanza slot was however, the first to really put Megaways on the map and kick off the revolution. Possibly the most famous Megaways slot out there, Bonanza is for many the de facto benchmark for each subsequent Megaways release. Featuring free spins, retriggers, cascades, and unlimited multipliers, you can't say you've had the full Megaways experience unless you've had a crack with Bonanza.
White Rabbit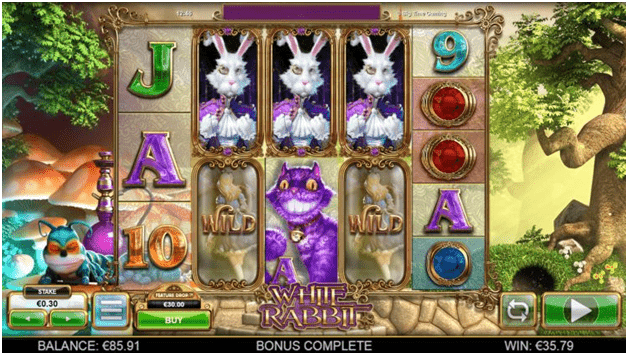 White Rabbit is another release from Big Time Gaming to showcase another innovative new feature. This Alice in Wonderland inspired game was the first to offer a bonus buy option where players can skip the base game and go straight to free spins. During the bonus game, White Rabbit can extend its reels to 12 rows high, producing up to 248,832 ways to win in the process. Compelling gaming and an RTP as high as 97.77% with the feature buy active; means White Rabbit is another hit in the Megaways pantheon.
Primal Megaways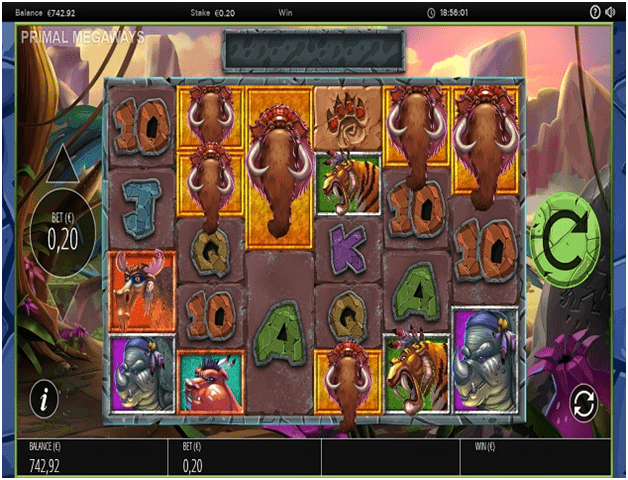 Blueprint Gaming is one developer who took to Megaways like a duck to water, using it to power many of their slots. One of their earlier hits was the prehistorically themed Primal Megaways. A favourite for those who like highly volatile gaming, Primal Megaways also features mystery symbols, wild multipliers, and a clever retriggering bonus guarantee. Blueprint has gone from strength to strength when it comes to Megaways, but Primal Megaways remains one of their best.
Megaways brought with it, big reels, big win ways, and some of the largest non-jackpot payouts possible on a slot. Megaways has, without a doubt, smashed the boundaries of what slots can do, while steadily pushing game quality in a positive direction.