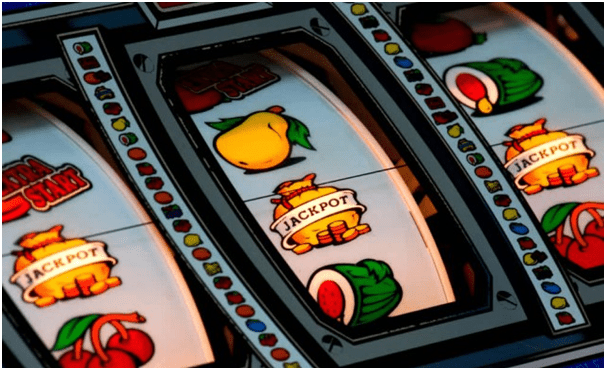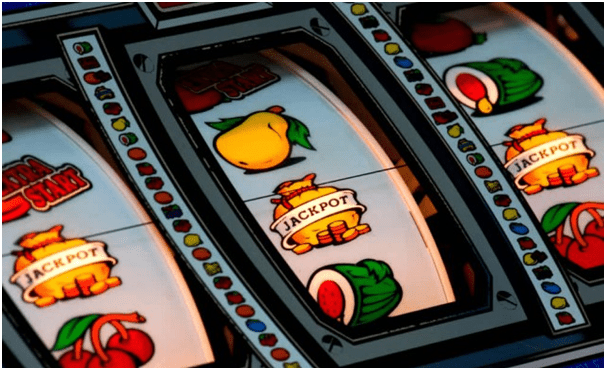 Fruit machines are traditional and popular gaming machines liked by players. If you have never seen a fruit machine then you need to know that it is a 3 reel game with a simple set of rules and often having symbols of fruits like cherries, lemons, numbers, gold bars, and lucky 7s that form a nice combination for good wins. The aim of playing a fruit machine is to get three of the same symbols across the middle row. Generally, there is no multi-line slots-style feature. All symbols pay from left to right in consecutive order as they do in traditional slots.
These fruit machines can be found both at land and in online casinos. The difference is in the payout percentage as 98%- 99% payout percentages are much higher online than the 75% – 80% you find on land based fruit machines.
Many fruit machines include a features board that includes many prizes and forfeits on each square. The majority of online fruit machines include progressive jackpots – some are as big as $50,000. These fruit machines can be found to play and enjoy at Microgaming-powered casinos. If you're hoping to play them at a non-Microgaming casino then they're commonly found in the games or arcade section of casino websites.
Fruit machines are similar to slots but differ because of nudges, holds and feature boards. Feature boards provide chances to move up cash ladders, guess higher or lower. Another key difference is that with fruit machine features you must collect your winnings before you lose them. When playing online there's no smashing of buttons, peering to see what's further up the reels and waiting for money to start 'dropping'.  Also, there are a number of automatic payouts and extra games that can be won or triggered when playing online.
Features Found in Fruit Machines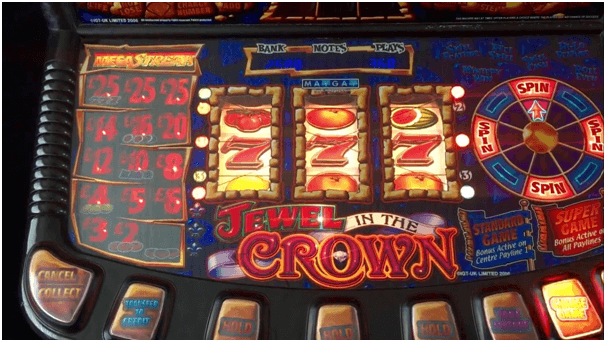 Fruit machines like other slot machines too are packed with lots of features. You can find the gamble feature, hi/lo feature, cash ladders, jackpots and feature boards. Feature boards tends to lead to the big wins and are set out like a children's board game with prizes and forfeit on every square. You can start on these boards if you reveal three of the required symbols. Once there your steps along the board may give you an extra spin, double your money on the cash ladder or make you go back a few spaces.
Jackpots have always been a key feature of fruit machines and are one of the most common ways of luring players into the fixed odds machines found around the globe
Unfortunately for those players, the jackpots found in fruit machines are very rarely progressive and are usually just the biggest payout available. That's not to say that these fruit machine jackpots don't provide big wins, but when compared to progressive jackpots, they simply don't come close.
Not only are online fruit machine jackpots bigger but they also offer better odds of winning. These odds are helped by the fact that should you win the jackpot, you can be winning as much as $50,000 instead of the $30, $50 or $150 jackpots that many land-based fruit machines have.
Fruit Machines with Jackpots
Fruit machines do offer jackpots but there are fewer fruit machines compared to other slot machines. So find here the best and the biggest fruit machine jackpots available online to play and win.
1. Treasure Island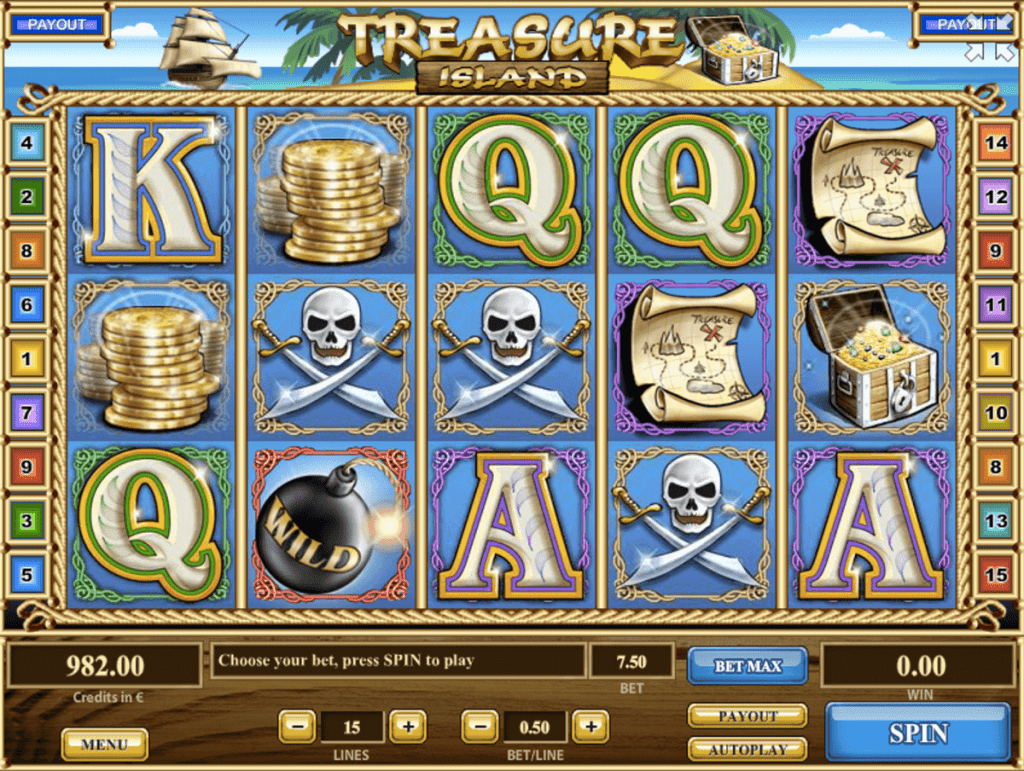 The Treasure Island fruit machine is a top paying slot machine that pays a whopping top prize of 500 times you stake, and you can adjust the stake to upto $10 per spin so that's a potential jackpot of $5000! You can play at any online casino of your choice powered by Microgaming. To understand the game first you can play for free first and then indulge in real money play.  The game is themed around a pirate ship known as the "Clover Leaf cruise". Treasure Island is packed with fruit machine features including nudges, nudge bank and nudge gamble, holds, hi/lo gamble, and a board feature with an extra life opportunity. This fruit machine combines luck and skill and offers great jackpots and entertainment. 
2. Pandamonium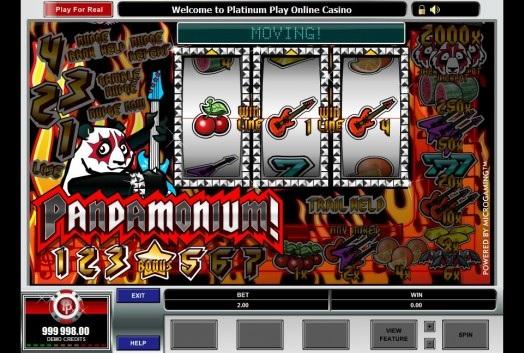 This fruit machine takes on a slightly different approach. This approach mainly comes from the fact that it's based on a rock star Panda and you don't get many of those around anymore. The Panda is in full on "rocker mode" with metal bracelets and red war paint in his eyes. He is even holding the guitar in a way that suggests he is rocking out to the fullest of his abilities. The framework of the reels is also studded out with a metallic "bling". You can see the reels shine; as there are different parts that reflect that light back at you.
There are other rocker symbols on the reels that should be familiar to any rock music fan. You can see bats, electric guitars of different sorts, and of course classic casino symbols such as cherries and oranges.
If you land two sevens and a guitar, you can choose to hold the sevens for the next spin. You will only spin the reel that has the guitar. This makes it more likely for you to land the winnings you want. There is also a nudge feature, which you can use to move the reel one slide down. Overall, these elements make big wins in Pandamonium that much easier to come by.
If all the above wasn't enough, there is also a bonus game that can be activated when you land a set symbol combination, which is number-related. Some symbols have a number attached to them and if your spin adds up to more than seven the bonus game starts. The game will take you to a separate reel that will award different prizes depending on where the wheel lands. You can use this strategically to earn more nudges and more cash prizes and even the jackpot is worth $20,000 to get that big win.
3. Stallionaire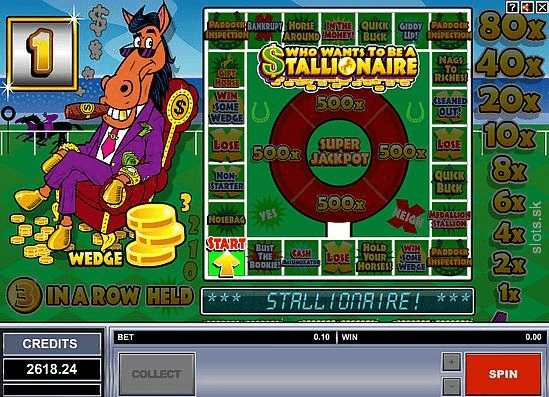 The aim of Who wants to be a Stallionaire fruit machine is to "enjoy a day at the races" and "beat the bookie" by winning the $10,000 jackpot. Who wants to be a Stallionaire has a great bonus feature round that is activated by matching 3 horse shoes on the win matrix which basically means get any 3 symbols on the win line, or either on the reel one above or below the win line. The bonus feature is similar to those you'd find on fruit machines in your local pub, as the feature involves moving around a board increasing your prizes, nudges, or cash win each time you move around.
4. Fruitful 7s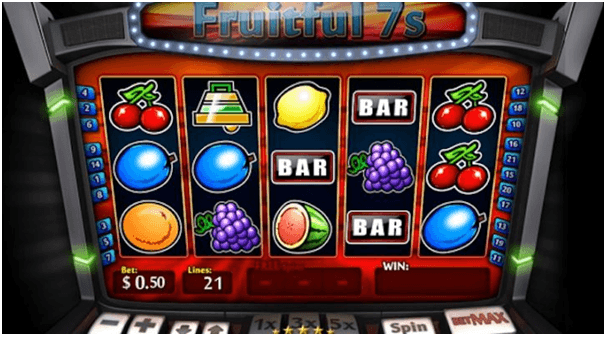 Fruitful 7s, which is inspired by the classic pub fruit machine having classic fruit symbols and up to 500x payouts and 2500x in the bonus round with a free spins feature where players choose their prize multiplier. Graphics and effects are incredible and bonus features are brilliant with all the bells and whistles out there with old cherries, lemons, sevens and bars you will really love this game to play at online casinos.
Other Fruit Machine Jackpots you can play
Of course, the fruit machines above aren't the only ones that provide big online jackpots. There are many more with Microgaming casinos housing more than fifty different online fruit machines.
You can play the Deal or No Deal fruit machine , Rainbow Riches, Pub Fruity, Cash Drop, Cops N Robbers, Bar X, Lucky Darts or Winning Wheels which can be found in the games section of many casinos. Online fruit machines are becoming more common and with that the jackpot amount rises so you can find them easily at online casinos to play and enjoy.